Shawn Lamb's & Jack Chew's Moto Guzzi
Updated:
I met Jack Chew when I lived in Florida. He was looking for someone to restore his recently acquired Moto Guzzi and contacted me. Later in the process, his son in-law Shawn Lamb became involved as well. Shawn had a vision of the end result he wanted and I worked to achieve that goal for he and Jack. The end result is a lovely machine.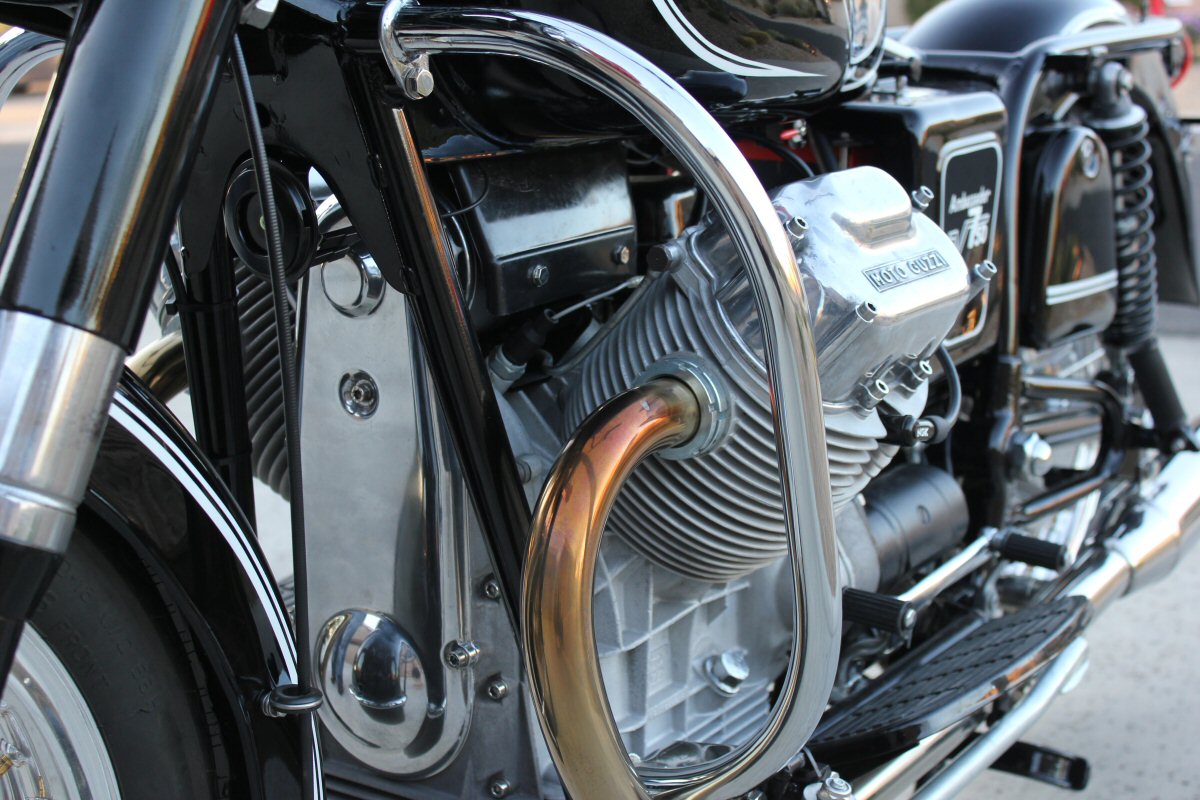 This project started with an assembled basket case in very poor condition. The motorcycle left Mandello del Lario as a V700. Along the way, someone had installed an engine, transmission, and rear drive from an Eldorado. It also sported an extremely poor front disc brake conversion using components from a Moto Guzzi 850 T3. Much of the body work was pretty beat up and everything required significant TLC. A few of the more notable aspects of this project:
Engine disassembled, thoroughly cleaned, inspected, and reassembled replacing worn components along the way. Good sleeved cylinders were reused; so no chrome issues. Cylinder heads were rebuilt by a great machine shop local to me here in Phoenix.
Transmission rebuilt by Charley Cole of Zydeco Racing.
Rear drive rebuilt by Charley Cole of Zydeco Racing.
Paint work was performed by Stephen Hill (tank, fenders, tool boxes, side covers, headlight, fork shrouds, tail light, tail light bracket).
Frame, swing arm, and associated components were powder coated. One of the owner's - Jack Chew - took care of some of the powder coating and aluminum polish work in Florida. I took care of the rest here locally using Arizona Powdercoat and a local source I have for polish work.
A frame from an Eldorado was used in place of the V700 frame.
A complete front end and numerous other replacement parts were sourced from Mark Etheridge of Moto Guzzi Classics. Forks were completely rebuilt.
Swing arm and drive line were rebuilt, replacing worn components along the way.
Bosch starter and original Magneti Marelli generator were completely rebuilt; many new electrical components were fit along with a new Odyssey PC925 battery.
The entire wiring harness was replaced with new components, including a custom relay solution for the headlight and starter.
A complete stainless steel exhaust system using Mistral mufflers were fit, sourced from MG Cycle.
Solo seat, luggage rack, and pillion pad were sourced from Harper's Moto Guzzi
Windshield brackets and spot light brackets were sourced from MG Cycle. Spot lights are new quality units sourced from JC Whitney. Turn signals are new modern equivalents (Trucklite) of the period Dietz turn signals commonly fit by police departments.