View all Wiring harnesses for the Moto Guzzi Le Mans for sale
Extension cable for left front turn signal
Part number:
14750681 14750651 18751652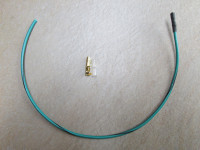 Extension cable for left front turn signal
Connects the bulb holder inside the turn signal to the dash sub-harness. Fits original CEV turn signals that accept a 2.62 mm wide female spade terminal. Route wire through the turn signal stem and then crimp on the provided terminal.