View all Loop frame wiring harnesses for sale
Wiring to connect the starter relay
Part number: 12732605 12732705
Price: $11.50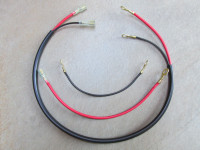 Wiring to connect the starter relay
Wiring and terminals are specific to each charging system and starter.
Connection to the neutral switch: I've chosen to use a 6 mm ring terminal instead of a 5 mm ring terminal on the black wire. Originally the neutral switch provided the ground for the relay, requiring the transmission to be in neutral for the motorcycle to be started. Since so many people permanently ground the relay using a 6 mm bolt on the transmission, I've decided to simply provide the 6 mm ring terminal. Should you desire the original 5 mm ring terminal, I will be happy to oblige.
Magneti Marelli note: Early Magneti Marelli starters required a separate ground wire. The modern replacement solenoid also requires a separate ground wire. Given the inconsistent need for a ground wire, I've included one with all the Magneti Marelli sub-harnesses, just to be sure you have everything you need.
Alternator note: Originally, an unfused wire was run from the voltage regulator to the relay. This harness uses a more universal 6 mm ring terminal to connect to the battery positive terminal. Length is 350 mm, which should work for just about any battery/relay installation.
When ordering please specify charging system and starter combination: Magneti Marelli, Bosch, Alternator.