View all Loop frame wiring harnesses for sale
Left handlebar switch
Part number: 12747320
Price: $12.50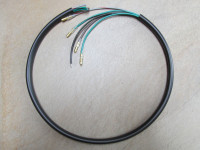 Left handlebar switch
Ready for your switch (MG# 12746020 or MG# 12746001). Works with switch pictured below (not included).
When ordering: Please specify civilian or police handlebars.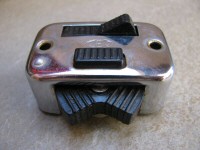 IMPORTANT NOTE #1: As with all switches actuating higher amperage components, I consider relays for the headlight low and high beam circuits a necessity. I sell a very nice relay kit specifically made for this very purpose.
IMPORTANT NOTE #2: It is very easy to destroy original or aftermarket switches when using a conventional soldering iron. Even if you know exactly what you are doing and are very experienced with soldering procedures, the switches can very easily be rendered useless. Rather than using solder, I strongly recommend the following: