View all Loop frame wiring harnesses for sale
Alternator wiring harness
Part number: ALT-HARNESS
Price: $13.50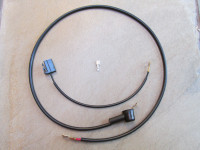 Alternator wiring harness
Features the correct plug for the usual Nippondenso / Denso alternators and clones. Works with the alternator kits produced by Greg Field/Bob Nolan or Kevin Hahn of Scrambler Cycle.
Note: This sub-harness is not needed if you are purchasing one of my main harnesses for an Alternator equipped machine. I've already included the plug and correct wiring with those main harnesses. Instead, this is a stand-alone harness to be used with a pre-existing main harness when adding an alternator.
12 AWG red wire from the alternator to the battery positive terminal, fit with

6 mm

ring terminals at each end.
16 AWG black wire from the alternator plug to the positive terminal on the coil.
Terminal provided for the existing 16 AWG red wire that illuminates the dash light when the alternator is not charging. Clip off the old terminal, crimp on the provided terminal, and insert it into the plug.
Rubber terminal cover provided for the post at the alternator.
When ordering please specify your coil: Magneti Marelli or Bosch. Magneti Marelli coils accept 5 mm ring terminals. Bosch coils (and many modern aftermarket coils) accept female spade terminals.