View all Loop frame wiring harnesses for sale
Sheathing for the wires inside the rear fender
Part number: SHEATHING-REAR-FENDER
Price: $3.50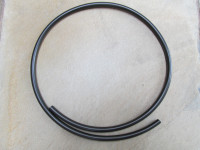 Sheathing for the wires inside the rear fender
Originally, Moto Guzzi did not sheath the wires inside the rear fender. This sheathing is sized to fit the parking light, brake light, left turn signal, and right turn signals wires.
Instructions: Cut to length, route wires through sheathing, crimp on male bullet terminals to the end of each wire.
Note: Terminals for these wires will not be crimped on the harnesses. You will need to crimp the terminals after routing the wires through the harness. This is done to ease installation.