Dash indicator lights - bulbs / lamps
Moto Guzzi V700, V7 Special, Ambassador, 850 GT, 850 GT California, Eldorado, and 850 California Police models
Created:
Updated:
Incandescent bulbs
The Eldorado spare parts catalogs list these light bulbs as MG# 10744910: 12 volt, 3 watt light bulbs. But the specifications end there. You also need a light bulb that has a miniature bayonet base. Here are some part numbers and sources that should work for you. I prefer the #1891 to the #53 because it is about twice as bright (and closer to the original wattage specification). However, the #1891 bulb is too long to fit in the indicator light tubes used on dual-guage dashes and police dashes. My recommendation is as follows:
Single gauge civlian dash:

Use #1891 bulbs for all five gauge and indicator lights.

Dual gauge civlian dash:

Use #53 bulbs for the four indicator lights.
Use #1891 bulbs for the two gauge illumination lights.

Single gauge police dash:

Use #53 bulbs for the seven indicator lights.
Use #1891 bulbs for the one gauge illumination lights.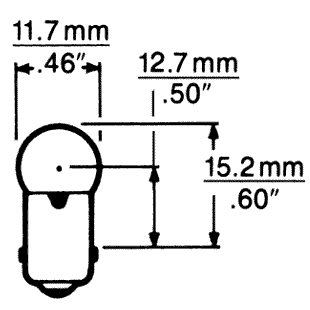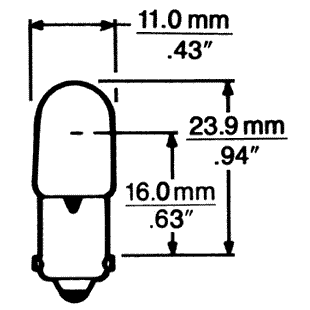 LED bulbs
While I've always been satisfied with the 1891 or 53 incandescent bulbs, I ordered some LED bulbs from Super Bright LEDs to try out as replacement dash bulbs. The bulbs are 12 volt, made to fit a 9 mm bayonet base, have a 32° viewing angle, and are comprised of 4 LEDs each. I ordered these part numbers:
BA9S-R4-32-12V (red)
BA9S-G4-32-12V (green)
BA9S-B4-32-12V (blue)
BA9S-A4-32-12V (amber)
These bulbs fit perfectly within the sockets and are visibly brighter than the 1891 incandescent bulbs. As with all LED bulbs, it is important to match the color of the LED bulb to the lends color.
Locating these bulbs on the Super Bright LEDs website can be difficult. Here is how to find them:
Select volts: 12V AC/DC.
Select Beam Angle: 32 degrees.
Select color: red for red lens, green for green lens, blue for blue lens, amber for amber lens. Lens color must be matched with LEDs.
Add to cart.