Handlebar switch - Yamaha YHA 205
Moto Guzzi V700, V7 Special, Ambassador, 850 GT, 850 GT California, Eldorado, and 850 California Police models
Created:
Updated:
Buy a wiring harness for this switch
I extracted this information from Leon Karlak off of the old Yahoo! Loopframe_Guzzi news group (which has now moved to Groups.io).
Any 22 mm or 7⁄8 inch handlebar switch can be fitted, but period correct switches are more difficult to find. Fortunately, Yamaha still has a nice unit available. Drop by your local Yamaha dealer and pick up part number 396-83972-11-00 (YHA205). This switch was originally fitted to the 1970's RD 125.
Charles Hamer was kind enough to send me the wiring code cross-reference to make installation on our V700, Ambassador, and Eldorado models quick and easy.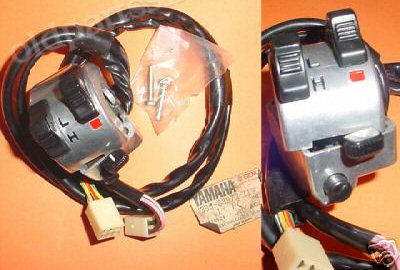 | Function | Yamaha YHA 205 | Moto Guzzi |
| --- | --- | --- |
| Horn (wire to distribution panel) | Pink | Black |
| Right turn signal / turn indicator | Dark Green | Yellow or white/black |
| Turn signal / turn indicator (live wire from fuse panel; goes through flasher unit / blinker unit) | Brown & White | Purple |
| Left turn signal / turn indicator | Dark Brown | Yellow with black tracer |
| Running lights / parking lights (tail light, gauge illumination lights, etc.) | Blue | Gray with red tracer |
| Headlight high beam | Yellow | Green with black tracer |
| Live wire from fuse panel | Red & Yellow (can be faded, look close) | Brown |
| Headlight low beam | Green | Green |