Mikael's Story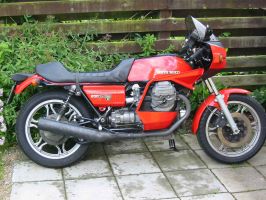 The following story is Mikael's own description of his entry into the interesting and weird world of Italian motorcycles.
There are several things that makes this text quite unique; Mikael's honest way of writing makes you want to read the whole story, and all the time he has this special tongue-in-cheek attitude. But the best part is that Mikael has been through every single thing that can go wrong with an old Moto Guzzi.
Most people that buys a vintage Moto Guzzi have been through a few of these things. Some people resign and sells the bike again, where other fights the way through until the bike is properly sorted. This is a recipe of happy Guzzi ownership, even though Mikael didn't take the easy road :-)
Neither Mikael or the webmaster are of English speaking heritage, so you'll probably find a number of grammatical errors in the text. Mikael worked hard to translate his story to make it available to the rest of you, so give the guy some positive feedback - he deserves it.
Enjoy!