2007 January 14: :
Created:
Updated:
First entry|Previous entry|Next entry|Last entry
---
was planning on going to the Cycle World motorcycle show in DC with some friends, but they all decided not to go. I could have gone alone, but chickened out and went out into the shop to play instead. Let's see, where's that '71 civilian Ambassador frame (with good title) in all of this mess?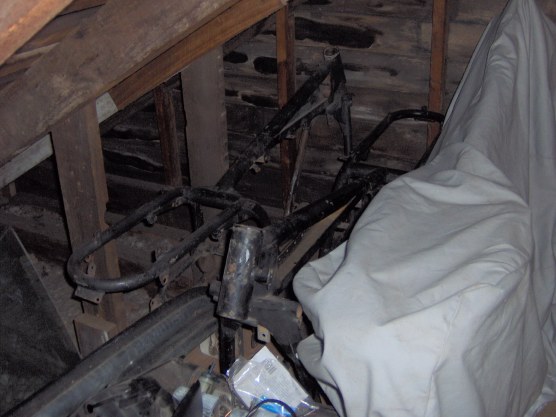 Carried it downstairs, put it on the lift and cleaned it with mineral spirits. Lots of patina here - chips, scratches, dings and the remnants of 36 year old paint. After a heavy coat of wax it looks pretty good (from 20 feet away) and I dig out a center stand, triple clamp and top plate to match.
---