2008 March 18: :
Created:
Updated:
First entry|Previous entry|Next entry|Last entry
---
Worked a while today on removing the fairing, bags and auxiliary lighting from the '69 Ambo. I decided that one dresser in my fleet would be enough, so Barney will be fully pimped out and the '69 will go naked for the first time since I bought it in '97. I love the way it looks without all of the accessories...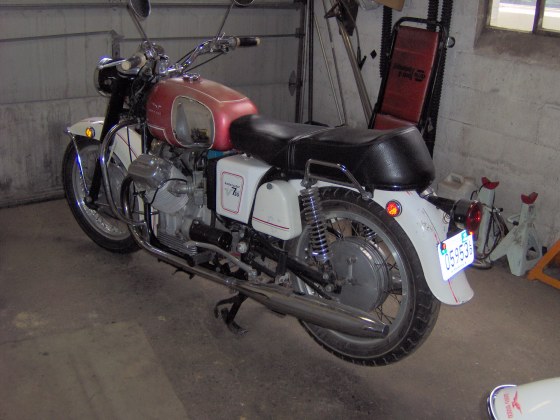 The polizia fairing for Barney is already at the body shop to be color-matched to the Wixom saddlebags, hopefully it will be finished in another week or so. I ordered some stainless hardware and rubber trim from McMaster-Carr, a new windscreen from MG Cycle. Mounted up the spotlights and brackets first...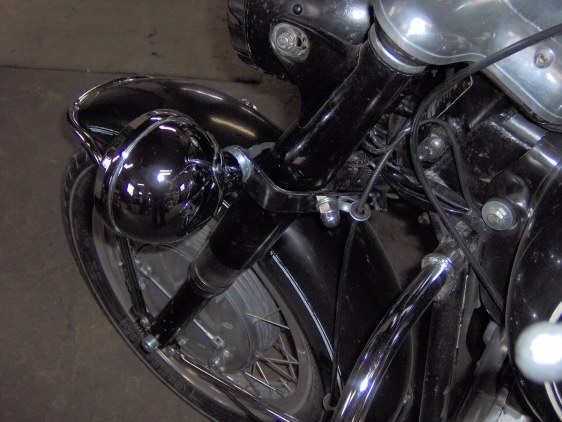 ... then the Wixom brackets and rear aux. tail and brake lights.
Got started on the bracket for the turn signal switch (a simple SPDT toggle), then ran out of time. Lots of little stuff to do yet - finish that bracket, mount the beehive lights on the bags (inner red incandescents will be running lights, outer amber LEDs will be turn signals), assemble and mount the fairing with front signals (amber truck cab marker lights with LED bulbs), fabricate the dashboard (0.25 inch plexiglass) and mount it to the fairing, then wire everything up. I'll try to do it in small installments so the bike won't be out of commission should a sunny day pop up! Of course, there's always the MZ...
---