2008 May 02: - :
Created:
Updated:
First entry|Previous entry|Next entry|Last entry
---
One more item on my to do list was a front brake light switch. I initially tried to achieve this with one of the Barnett cables I had made with a switch built in. But, somehow I managed to over lube the cable and shorted the switch, rendering it useless. So, I put a Barnett cable without switch back on and began thinking about another way of doing it. A while back I'd bought several Harley Sprint brake lever perches which incorporate a switch, the throttle and mirror mount. Nice, but the stock Guzzi lever wouldn't work and the Sprint lever would require cable alterations. The project was backburnered while I pondered it some more. Digging around in my drawer of switches the other day and found a Bosch brake light switch with spring and a little clamp for around a brake rod. A little light bulb lit above my head! Last year I had been checking out Rob Prins' Ambo and noticed the Honda brake light switch he had attached to the front fender stay. The switch I found would be perfect to do the same thing! Made a bracket out of some scrap stainless steel and a short harness to connect the switch to the wires already in place from the aborted cable activated one.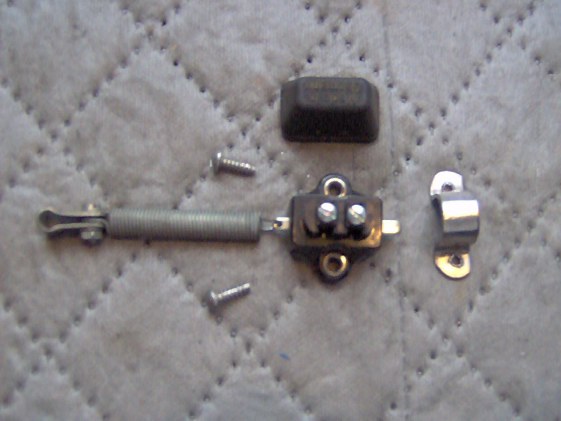 Works great, looks a bit Rube Goldberg, but if it keeps me from being rear ended it's worth it.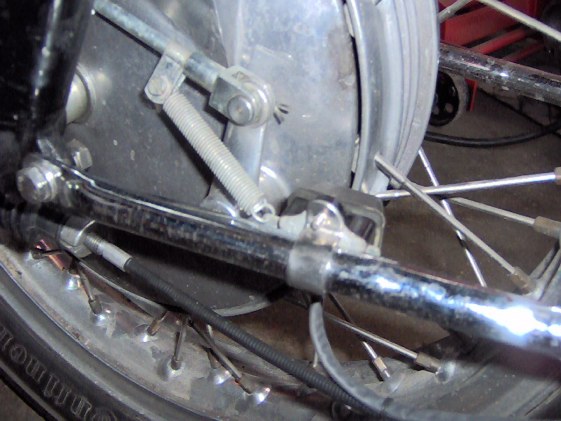 ---