2007 February 19: :
Created:
Updated:
First entry|Previous entry|Next entry|Last entry
---
Opened up the transmission today and found about what I expected. Two bearings had flaky rust on them, but I didn't expect that the shift fork and sliding sleeve for third and fourth gears would be rusted also. The fork wasn't rusted on the machined surface, but the sleeve was in it's machined groove pretty badly. It should be reusable, but since I had a new-old-stock one in my stash, decided to replace it. The gears and remainder of the bearings look perfect, but I'll replace the bearings anyway since I have them on hand. Bought all of the ball bearing type for less than $30 from Emerson Bearing, but the hard-to-find needle bearing cost $44 off of eBay. I got all the new bearings in except one - one on the back cover fit loosely enough that it could be pulled out by hand. I'll need to get some bearing retaining compound to secure it and am waiting on shift drum shims, clutch hub circlips and the shift shaft O-ring to arrive from MG Cycle. Reassembly shouldn't be too bad since I took lots of photos, drew diagrams and have Gregory Bender's excellent website http://www.thisoldtractor.com/loopframe.htm to reference when/if I get stuck.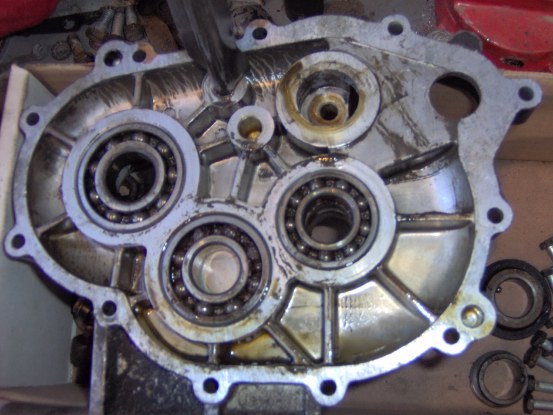 Above - lower bearing on the rear cover had flaky rust in and on it - not good. The bearing on the other end the same shaft looked just as bad.
Above - 3rd/4th gear sliding sleeve and fork didn't look so hot either. Luckily, I have a new-old-stock sleeve (below) and the fork will clean up no problem.
Below - used a zip-tie to keep all the little fiddly bits where they belong until time for reassembly. Was a bit worried about springs, plungers and selector pawls flying everywhere and then trying to find them. This has worked a treat so far...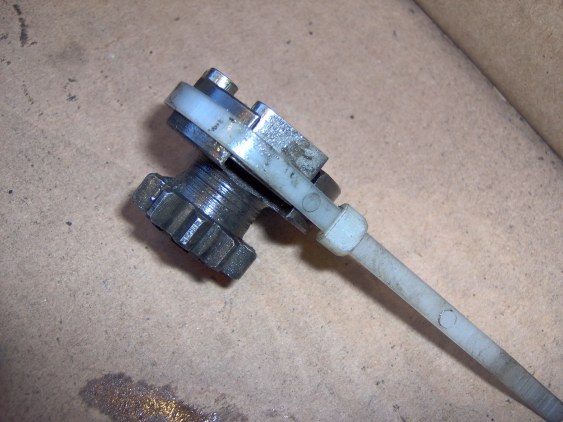 ---