2008 January 15: :
Created:
Updated:
First entry|Previous entry|Next entry|Last entry
---
This evening I finally got around to installing the Progressive Suspension shocks I bought from Motorcycle Accessory Warehouse. Part of the problem was they come with the springs separate, so I needed a spring compressor. Since I'm too cheap to shell out $50 for one, I instead grab some suitable scrap metal, buy a length of angle iron and a pin, then set to work making my own. Two hours later it's done and the springs are on the shocks.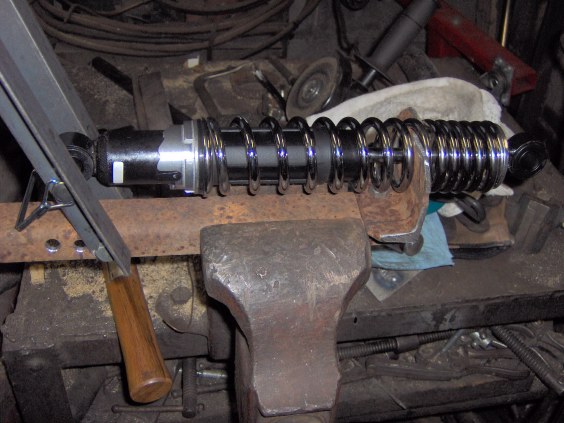 The shocks go onto the bike without any fuss, but I'll have to wait a while for a road test - the temps have dropped into the 20's with no improvement forecast for quite some time. That's okay though, I still have to retorque the heads, do the final tune and other things on my to do list. When I retorque the heads, the present dull rocker covers will be replaced with the final shiny ones. Spent a few minutes before I quit for the evening on cleaning and (hand) polishing one - looks much better, can't wait to put them on!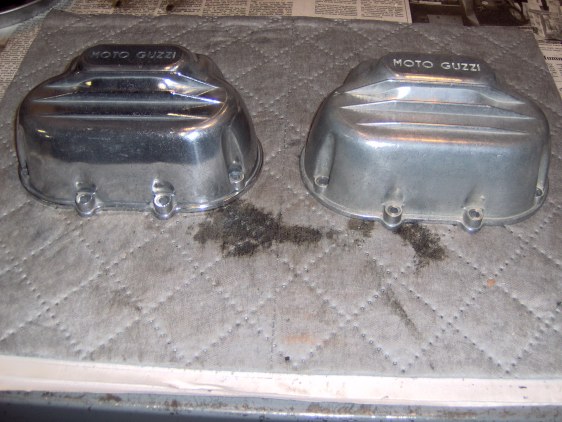 ---