2008 April 04: :
Created:
Updated:
First entry|Previous entry|Next entry|Last entry
---
The fairing body returned from the painter today, unfortunately he didn't paint the inside like I asked him to or have time to pinstripe it. Bought an aerosol can of Dupli-Color truck bedliner, masked the outside and sprayed three light coats on the inside. Dried quickly, looks very nice in my opinion - certainly better than primer and over spray!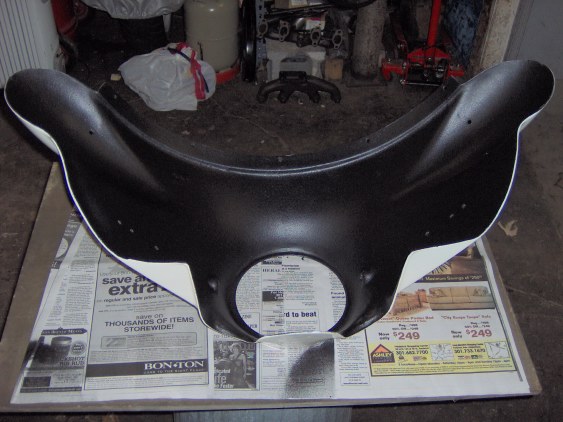 Went riding Saturday instead of installing it like I'd planned, but the weathermen were totally wrong as usual and I needed to ride anyway. Sunday turned out to be a rather gloomy day, so I puttered around the house in the morning and after a late lunch went out to the shop and set to work. Installed the weather seal around the headlight opening (same seal I used on the saddlebags).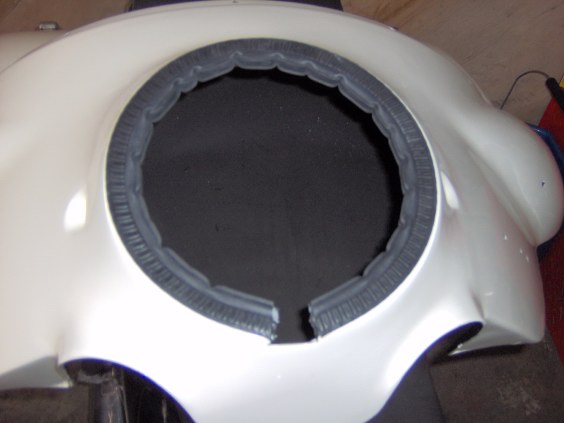 Sprayed the seal good with silicone and then slid the fairing over the headlight. Fits quite snug, stays in place without any fasteners, but I held it in place with two bolts on either side of the headlight until I had the brackets installed anyway.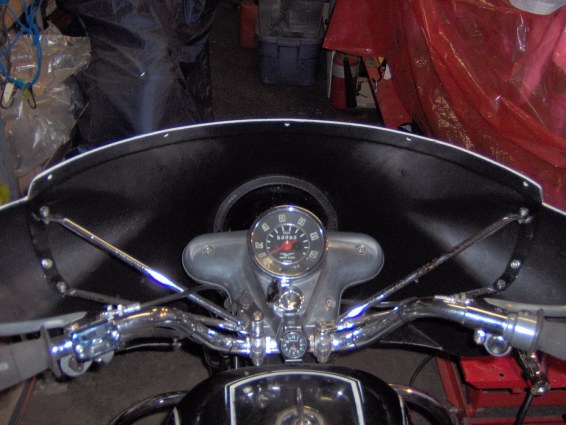 Then comes the fun part - installing the new windscreen with rubber seal and aluminum trim strip. Two of the holes in the windscreen don't line up with the trim too well, so I redrill them. Then when the bolts are installed, the windscreen bows out between the same two holes, so I elongate the holes in the fairing body. Finally with the help of my brother, it goes on more or less correctly. Still needs a bit of fiddling before I'll be satisfied. By this time, it's getting rather late and I'm hungry, so I quickly install the truck cab marker lights I'm using for signals and then call it a night.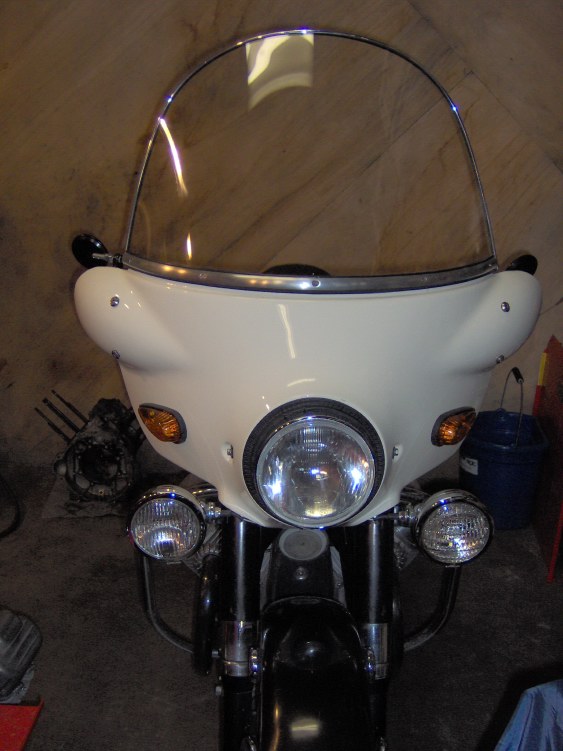 Once I get the necessary pinstriping tape, that will be next on the agenda. That should break up the large expanse of creamy whiteness some. I might put a Moto Guzzi with birdy decal above the headlight too if there's room and it'll look right. Then I'll move on to wiring the signals up and finishing a few jobs from my to do list that I forgot.
---